| | | |
| --- | --- | --- |
| " | This exhibition is an ideal way to share new and exciting insights into life on Pandora - Steve Moster, president of GES | " |
Avatar: Discover Pandora
General Information
Date

December 7, 2016-present

Location

Global Tour
Avatar: Discover Pandora is a traveling exhibition focusing around the world seen in the Avatar franchise.
Background
Edit
The exhibition was preceded by a North American exclusive simply entitled Avatar - The Exhibition, which toured across the US and Canada in 2011-14, a venture by EMP. The global successor is unrelated to the EMP-led precursor, and is instead the product of a 2015 deal between Twentieth Century Fox, Lightstorm Entertainment and Global Experience Specialists. GES usually cater for more stately affairs such as corporate events, but in the past they have also covered entertainment-oriented shows such as the tenth anniversary exhibition for the Halo franchise.[1] Avatar - The Global Exhibition was unveiled on April 23, 2015 in an article on PR Newswire.[2]
The exhibition was later retitled Avatar: Discover Pandora, and announced the first stop in Taipei, Taiwan on September 19, 2016.[3] It opened in Taipei on December 7th, 2016.[4] Avatar: Discover Pandora's Taipei run went from December 7th, 2016 to March 14th, 2017.[5] GES worked in partnership with Taiwanese toy manufacturer and distributor Beast Kingdom Co., Ltd. to bring the exhibit to its Taipei venue, the Xinyi Theatre on the sixth floor of Shin Kong Mitsukoshi's Xinyi Place A11 store.[6]
On June 5, 2017, the second stop was announced, with the exhibition coming to The Mall Shopping Center Bankapi in Bangkok, Thailand. The Thailand run went from July 1st, 2017 to September 3rd, 2017 for a two month engagement. The exhibition was supported locally by Mactus Live and Pixelone Event & Festival. The Thailand run of the exhibition was the first to be supported by FoxNext, 20th Century Fox's location-based entertainment, video game, and virtual reality division.[7] On December 22, 2017, the first stop in 2018 was announced in Shenzhen, China at the Great China International Exchange square from January 28-April 12, 2018. This stop will be the first of several in mainland China.[8]
Description
Edit
The exhibition covers a 12,000 square foot area (0.3 acres) with interactive displays that highlight Pandora. The event frames Pandora in a real-world context, as though it was a real place that could be visited and explored. Within this context, the exhibit is presented by the Pandoran Research Foundation. The artifacts and specimens featured in the exhibit were curated by scientists from the RDA's Avatar Program, who left Pandora more than six years before the start of the exhibition.[9]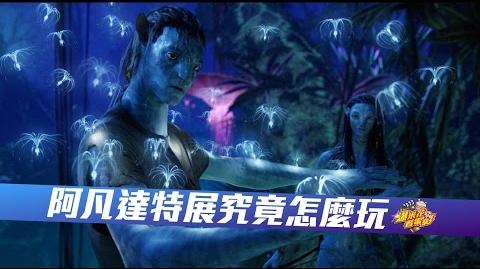 The 45 minute tour includes:
Pre-recorded segments from Dr. Norm Spellman at the entry portal and elsewhere in the exhibit.
Information on the Alpha Centauri System and the challenges of space travel to reach it from Earth.
A Bioluminescent Theater, where visitors experience a recreation of Pandora at night and learn about its beauty, danger, and the Pandoran Neural Network.
An Amplified Mobility Platform suit for guests to step inside, providing a simulated ride through Pandora.
An investigation of Na'vi culture, depicted through careful reproductions, and their connections with nature.
Displays of weapons and equipment from the Na'vi and the RDA.
Various samples of Pandoran flora and fauna, including elements that allow visitors to safely feel tactile sensations like insect bites.
A replica of the Tree of Souls.
More than a dozen hands-on interactive components, intended to appeal to avid Avatar fans and newcomers. Various touch displays allow visitors to engage in a variety of activities, including navigating maps of Avatar settings, testing their Na'vi language skills by speech recognition, making an Avatar version of themselves, taking a quiz to find out what Pandoran animal fits their personality, and interacting with Pandora's plant life like the Helicoradian plant. Another interactive element allows visitors to fly their own Mountain Banshee by moving their arms and clapping. This uses motion sensor technology to replicate the connection that a Na'vi and Banshee would have via their queues. Another banshee related interactive element lets guests design a Banshee with a custom color scheme.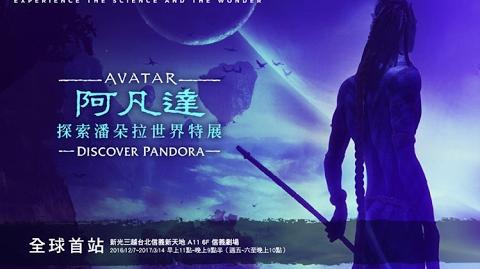 Visitors recieve a personalized ID card that records engagements in the exhibition and photos.[10]
With guidance from scientists, the exhibit also has a real world educational component, connecting the fictional Avatar concepts to real world science. A Teacher's Guide is provided on the official website to help teachers make lesson plans for field trips and tie the experience into the class curriculum and national educational standards.[11]
The international nature of the exhibition allows for promotional tie-ins to local holidays, like Taiwan having a "lucky draw" raffle of Avatar merchandise for those who visit the exhibit during the weekend of 2017's Lunar New Year.[12] Venues also have their own promotion methods, such as Taiwan having a freestyle dancer in Na'vi make up perform for mall visitors.[13] Na'vi cosplayers have also been incorporated in promotion for the event and for photo opportunities at the grand opening in Bangkok.[14][15]
Exhibition Venues
Venue
Country
Opens
Closes
Xinyi Theatre at Shin Kong Mitsukoshi, Taipei
Taiwan
2016-12-02
2017-03-14

The Mall Shopping Center Bankapi, Bangkok

Thailand
2017-07-01
2017-09-03
Great China International Exchange Square, Shenzhen
China
2018-01-28
2018-04-12
References
Edit
External Links
Edit
| | |
| --- | --- |
| | There is an image gallery for |