Avatar: Pandora Rising
Game Information
Developer
FoxNext Los Angeles
Publisher
FoxNext
Platform
Mobile
Released
TBA 2020[1]
Genre
Massively multiplayer mobile real time strategy game
Media type
Digital Download
Avatar: Pandora Rising, previously known as the Avatar MMO, is a "massive real-time strategy and social" game for mobile devices.[2] The game is being developed by FoxNext Los Angeles, in partnership with Lightstorm Entertainment.
The game "soft launched" on October 18, 2019 in Canada, New Zealand, and the Philippines for Android and iOS devices. The full game launch is planned for 2020.[3][4]
On September 12, 2020 the game was further released in Austria, Denmark, Finland, the Netherlands, Norway, Sweden, and Switzerland.[5]
James Cameron first announced interest in an Avatar Universe MMO in April of 2011, though at the time he was suggesting it would run on 3D televisions.[6]
Confirmation of the mobile MMO came over five years later, in a press release from mobile developer Kabam on June 29, 2016. Kabam has its origins in Facebook games of the late 2000s, expanding into Android tie-ins for many film franchises in the early 2010s, including Lord of the Rings and The Hobbit.[7]
Kabam's Vancouver studio was bought by South Korean gaming NetMarble in 2017, Aftershock surfaced as a spin-off from Kabam. In June 2017, the Avatar MMO was confirmed to still be in development by Aftershock, which had been acquired by FoxNext, 20th Century Fox's location-based entertainment, video game, and virtual reality division that is also involved in Avatar: Discover Pandora.[8][9]
In August 2019, a teaser site was opened with the confirmed title of Avatar: Pandora Rising, new visuals, and a newsletter signup for the official announcement planned for "the coming months".[10] The game was advertised during the Inside the World of Avatar installation at D23 Expo from August 23-25, 2019.[11] A Instagram post by Travis Williams, Vice President of Digital Game Development at Lightstorm, indicated a planned upcoming soft launch for the game.[12] Development remains under Aftershock, now renamed FoxNext Los Angeles.[13][14].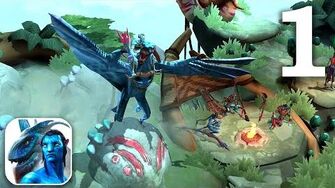 While details are currently scarce, Kabam COO Kent Wakeford stated "James Cameron and the Avatar franchise are synonymous with groundbreaking technology and pushing the envelope. We plan to live up to those standards by creating the best AAA massively multiplayer mobile game possible for the franchise." The studio promised frequent updates after the game's release. The original announcement said that characters and environments from the films would be included and that some game updates would directly tie into sequel releases.[15]
A site update on National Video Game Day 2019 confirmed the title would be available for both iOS and Android from their respective app storefronts, showing gameplay mockup screenshots featuring Na'vi and human characters from the first movie and new characters created for the game.[16][17]
The Pandora Rising website indicated that the title would center around collecting "iconic heroes, troops and resources", base building, and real time battles, with players choosing between developing a Na'vi village or a Resources Development Administration mining colony. The FoxNext Games website said Pandora Rising "aims to set the stage for the upcoming sequel in the blockbuster franchise, creating a deep, narrative-driven game designed to reconnect fans with the rich and visually stunning Avatar universe." [18]
| | |
| --- | --- |
| | There is an image gallery for |
Community content is available under
CC-BY-SA
unless otherwise noted.