Jurassic World: Dominion Dominates Fandom Wikis - The Loop
Play Sound
This article is about
the Seattle exhibit
. You may be looking for
the Chengdu exhibit, which was renamed "The Exhibition" as of 2021
.
Avatar - The Exhibition
General Information
Date

June 4, 2011 to September 2014

Location

Five venue tour across US and Canada
Avatar - The Exhibition was a traveling exhibition about the production of the film Avatar. It premiered on June 4, 2011 at the Experience Music Project and Science Fiction Museum (abbr. EMP|SFM) in Seattle, USA, and remained there until September 3, 2012. Thereafter, it began a tour of the US and Canada, finally closing in 2014 back in Seattle. The event was succeeded by the global exhibition in 2016.
Description
[
]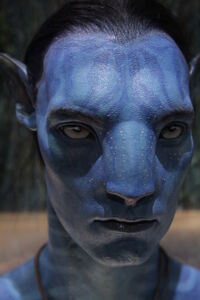 The exhibition featured many aspects from the production of Avatar. Among the exhibits were authentic props and costumes, the motion capturing suits, a virtual camera, a lifesized AMP suit, interactive displays, concept models of characters, plants and animals, and sketches from artists that worked on the film. Visitors were able to step into a motion capturing stage and get their movements projected onto the characters of Jake Sully or Neytiri in one of two scenes, rendered in realtime. The exhibition also featured a motion sensing interactive display with woodsprites that would land on visitors, similar to ones that would later appear in Avatar: Discover Pandora.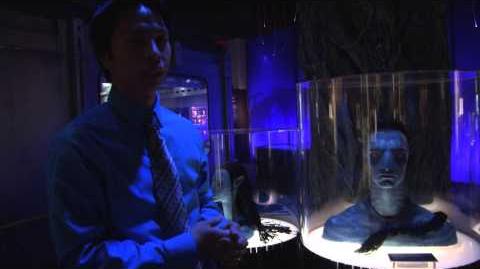 The exhibition was initiated by James Cameron and Paul Allen (founder of EMP and co-founder of Microsoft) and was developed within a year in partnership with Twentieth Century Fox Consumer Products and James Cameron's Lightstorm Entertainment. James Cameron, director of Avatar, said "The exhibition is going to be a unique opportunity for people to learn more not only about how the film was made, but also experience Pandora in a much deeper way. Fans will be able to see in-person the workmanship behind the film… It'll create a tactile reality that'll be a good companion to having seen the movie."
San Francisco-based Snibbe Interactive created the interactive displays for the exhibition, and Seattle Opera Scenic Studios created the surrounds, display cases, and portals.
Exhibition venues also had additional event tie-ins for museum guests, like The Museum in Kitchener, Ontario having a costumed actor and actress portraying Jake and Grace Augustine.[1]
Events
[
]
Opening Day Events
[
]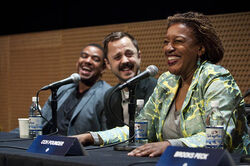 On opening day, the exhibition offered a series of special events and activities:
AVATAR: The Actors' Experience: Four cast member of Avatar, Michelle Rodriguez (Trudy Chacon), Giovanni Ribisi (Parker Selfridge), Laz Alonso (Tsu'tey), and CCH Pounder (Mo'at) held a panel, led by exhibition curator Brooks Peck. The actors talked about what it is like to act in a virtual world, utilizing new filmmaking technologies, and shared experiences from the set. For the end of the panel, the actors answered questions from the audience.
The Creation of a New World: Yuri Bartoli (Virtual Art Director), Terry Notary (Movement Choreographer), Nolan Murtha (Digital Effects Supervisor) and Glenn Derry (Virtual Production Supervisor) gave an insight on the process of making Avatar and the many facets that had to be considered.
Drumming Circle: Visitors were given the opportunity of performing a song in Na'vi while singing and exploring basic beats.
Button Making: Visitors could make buttons with Na'vi words.
The Science of Avatar: Visitors could test soil samples, experiment with magnets, identify minerals and learn more about the science of Avatar.
Sing Along Dance Along: Visitor learned and performed songs and danced to music inspired by the world of Pandora
Seattle Waldorf High School World Drumming Ensemble Performance
Venues
[
]
The exhibition toured through various North American venues.
Exhibition Venues
Venue
Country
Opens
Closes
EMP Museum, Seattle WA
USA
2011-06-02
2012-09-03
The Museum, Kitchener ON
Canada
2012-10-11
2013-01-13
Liberty Science Centre, Jersey City NJ
USA
2013-02-16
2013-05-19
Childrens Museum, Indianapolis IN
USA
2013-06-22
2013-09-22
The Henry Ford, Dearborn MI
USA
2013-10-26
2014-01-26
EMP Museum, Seattle WA
USA
2014-03-01
~2014-09
Sources
[
]