Avatar 2 is the first of four planned sequels to the 2009 film Avatar, set to be released in December 2022. The film has been under development since 2010, and completed preproduction in 2017, with much of the motion capture and principal photography completed by early 2020.[8] With filming having concluded in September 2020, the film is now in postproduction.[9]
Title
[
]
James Cameron has previously stated that the film will likely not be entitled "Avatar 2", since Jake is no longer an avatar at the end of the first movie, but rather a Na'vi.[10] No final title has yet been announced officially, but an April 2016 press release featured a new "Avatar" logo (found in the infobox at the top). Additionally, a November 2018 BBC article claimed that the title would be Avatar: The Way of Water. Cameron later explained in a February 2019 ET interview that the title was one of many under consideration and no final decision about titles had been made yet.[11][12][13]
Plot
[
]
Cameron has said in a statement to THR: "In the second and third films, which will be self contained stories that also fulfill a greater story arc, we will not back off the throttle of Avatar's visual and emotional horsepower, and will continue to explore its themes and characters, which touched the hearts of audiences in all cultures around the world. I'm looking forward to returning to Pandora, a world where our imaginations can run wild."[14]
In 2015, Jon Landau confirmed that humans would be returning in the sequel. "I think you will definitely have humans in the sequel... There are going to be good humans, there are going to be bad humans, There are going to be good Na'vi, There are going to be bad Na'vi..."[15] He also mentioned that there was going to be "action" as well as a "family story". During CineEurope 2017, Landau mentioned that the Sully family would be at the center of all four movies.[16] In May 2020, Landau hinted more at Avatar 2's family narrative, involving the Sully family being forced to leave their home and exploring the different regions of Pandora. He also described it as about "...what one does to keep their family together."[17]
Avatar 2 will explore the oceans of Pandora, and the team has been developing underwater motion capture technology for this purpose. He also confirmed that Avatar 2 will explore the Na'vi culture more than Avatar. "WETA is working out underwater performance capture for underwater scenes." Landau said, "It's going to be like the Floating Mountains in the first movie. It's not going to be all underwater; it's going to be a place we go to, leave and come back to."[18] James Cameron stated in 2017 that underwater elements will be most dominant in Avatar 2 and 3, but will be ongoing into Avatar 4 and 5.[19]
Cliff Curtis, who portrays the Metkayina leader Tonowari, brought in elements of his Maori background into his portrayal of the character. Curtis also introduced an interpretation of the Maori haka war dance, adjusted to implement the body structure and tail of the Na'vi.[20]
The plot of Avatar 2 will be a "fully-encapsulated" standalone narrative, as will the other sequels, but will also be part of a meta-narrative that extends across Avatar 2 to 5. The meta-narrative was originally intended to extend across Avatar 2-4 before the announcement of the fifth film.[21][22]
During promotion for The Shack in February 2017, Sam Worthington mentioned that Avatar 2 will take place eight years after the events of the original film. He also mentioned it having a family narrative while being "bigger" than the first film.[23] On the Empire Podcast's Avatar documentary episode, Cameron mentioned a marital dispute between Jake and Neytiri, "very, very critical to the storyline", shot from the perspective of their youngest child peeking in on the argument while hiding.[24]
During promotion for his AMC show Visionaries in January 2018, James Cameron discussed the amount of care being taken in the sequels, emphasizing the importance of having plots and characters people can connect with and not banking solely on immersive visual effects.[25]
Development
[
]
"
"I've had a storyline in mind from the start — there are even scenes in Avatar that I kept in because they lead to the sequel... It just makes sense to think of it as a two or three film arc, in terms of the business plan. The CG plants and trees and creatures and the musculo-skeletal rigging of the main characters — that all takes an enormous amount of time to create. It'd be a waste not to use it again."

- James Cameron, 2010[26]

"
Pre-production
[
]
Solo scriptwriting (2010-13)
[
]
The film's story, schedule and scope evolved dramatically over the course of its development. The core team participated in numerous interviews throughout 2010, detailing their ambitious plans to produce a sequel with a much shorter production time and a lower budget than the original. Cameron hinted that the heroes will venture to some of Polyphemus's other moons in the film, an idea that was ultimately removed from the story.[27] Another interview from the time stated that it would contain volcanoes[28] and would take place several years after the events of the original film.[29]
An early unused story idea for Avatar 2 was later reused for the comic book Avatar: The High Ground. The High Ground version may well have been the script Cameron wrote solo up to 2013, before Friedman's involvement.[30]
Writing with Friedman (2013-17)
[
]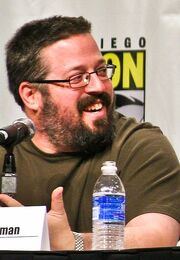 Cameron continued writing the script alone through at least February 2013,[31] but announced that summer that he would be co-writing the film with Josh Friedman. Throughout the following years, the story was redefined and expanded, in part due to "overwriting", and the vision for the franchise slowly shifted from a trilogy to a pentalogy.[32] The "characters, settings and creatures" for the film were "pretty much set" by December 2015.[33]
In 2013, James Cameron also stated that the style would be influenced by the master navigator culture of the small pacific civilizations of Micronesia. He was exposed to these cultures during his time on these islands during preparation for his dive in the Marianas Trench.[34] In 2018, Cameron said that the Metkayina clan, an oceanic-based clan of Na'vi introduced in Avatar 2, were "abstractly" based on Micronesian culture. Scriptwriting concluded in 2017.
Developing Technologies (2014-17)
[
]
The film's production faced several technological challenges including underwater motion capture. Traditional optical motion capture struggles with reflections from the surface of the water, for example. This was circumvented with a layer of plastic balls on the surface- which blocked the light while still allowing cast members to push through to breathe.[35]
Significant technological development took place during the years of scriptwriting. The underwater motion capture technology was only at the drawing board level in 2014, but was ready by the time the scripts were completed in 2017.[36]
In January 2017, James Cameron stated that he was transitioning from writing to the "active prep" process, with motion capture filming planned for August and his involvement in production every day up until then. Cameron also mentioned the motion capture volume was already running and design work was completed.[37]
Weta Digital formally announced they had begun work on the four Avatar sequels on July 30th, 2017.[38] In August 2017, Cameron confirmed that the sequels were in "full tilt" production, with actors going through the virtual sets to help give Cameron information on the scale, position, and lighting for scenes. After the virtual "scouting" shoots, Cameron entered rehearsals with the principal cast at the end of September.[39]
Production
[
]
Principal Photography (2017-18)
[
]
Principal photography commenced in California on September 25, 2017, and ran until October 2018.[40][41] Avatar 2 and 3 were shot back to back, and are planned to go through post production sequentially, in a "two and two structure" that will also be done for Avatar 4 and 5.[42] Portions of the sequel were shot at 120fps, though Cameron indicated that the framerate may intentionally change from scene to scene.[43] Two months after filming began, Disney announced its purchase of Fox, including the rights to Avatar 2.[44]
On November 14, 2018, James Cameron confirmed that the main cast of Sam Worthington, Zoe Saldana, Sigourney Weaver, Stephen Lang, and Kate Winslet had finished principal photography on Avatar 2 and 3.[45]
Underwater Motion Capture (2017-19)
[
]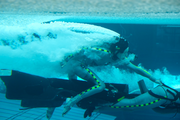 The first successful run of the underwater motion capture technology, after extensive testing, took place on November 14, 2017. The scene involved featured the new generation cast, who were trained for six months so that they could hold their breath for long periods. As a result, the cast can hold their breath within the two to five minute range and act underwater without the need for scuba gear. Cameron was quoted as being very pleased by the capture data results, saying that they "have basically cracked the code" on underwater motion capture. A small test tank was being used with plans to move to a larger tank in January.[46] The underwater scene featured dialogue in "a kind of sign language". Kate Winslet, who plays a character from the same clan as the new generation cast, also underwent similar free-diving training as she insisted on doing all her own water work.[22]
Addressing misconceptions that Avatar 2 and 3 were finished filming entirely, Cameron clarified during an interview for Empire released on February 2018 that filming was only finished for principal cast that were in performance capture only, which were "the vast majority of the characters and the vast majority of the running time for the film".[24] It was later confirmed in May 2020 in a ICB260 feature that Jack Champion was also part of the lead cast group that finished performance capture.[47]
In a February 2019 interview for Collider, Jon Landau confirmed that performance capture on Avatar 2 & Avatar 3 was complete, with some partial performance capture done for Avatar 4. Second Unit tank work concluded in March 2019.[48]
Photography (2019-20)
[
]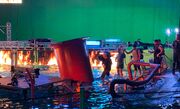 Landau stated that live action filming would start in spring 2019 in New Zealand.[49] This was further emphasized by Landau in another February 2019 interview with the LA Times, with the performance capture done for Avatar 2, 3, and parts of 4 described as "principal capture".[50] During the Empire Podcast, it was mentioned that live action filming will start in April 2019 and that Edie Falco was cast specifically for the live action filming. Cameron said that the live action filming would last five months, covering both Avatar 2 and 3.[24] The film used the Sony Venice camera system.[51]
Filming was suspended in early 2020 due to the COVID-19 pandemic, but resumed in May after New Zealand had all but eradicated the virus. This made it the first major Hollywood picture to resume filming after the lockdowns of early 2020. In an interview with Lightstorm's senior vice president of Production Services and Technology, Geoff Burdick, IBC365 stated that the "last stage" of live action photography was being completed at that point.[52] Cameron indicated that filming was complete by September.[53]
Post-production
[
]
Visual Effects (2017-)
[
]
On July 31, 2017, it was announced that Weta Digital had commenced work on the Avatar sequels.[54]
On March 7, 2019, The first footage of Avatar 2 was shown to Disney shareholders during a meeting in St. Louis, Missouri. It's unknown what was shown specifically or how finished the footage was.[55]
Virtual production was underway in Los Angeles by 2020, with the coronavirus pandemic halting further work in the area.[56]
Soundtrack (2019-)
[
]
During pre-production James Horner was billed to return to compose the sequel. When asked about his involvement with the ongoing franchise in April 2015, James Horner stated that he would stay with it through its entire run "If I last that long".[57] Tragically, James Horner died in a plane crash in June 2015.[58]
With the film still two years away from having a completed script, a new composer was needed- the post remaining unfilled as late as March 2019.[59] Simon Franglen, who had collaborated frequently with Horner in the past, was publicly announced as the new composer that December.[60]
Marketing
[
]
The Avatar Facebook page announced the start of production and a revised release date on April 22nd, 2017.[61] From that date onwards, the project has been regularly promoted on social media.
Pandora: The World of Avatar serves as both a promotional platform for the sequels and physical reference point for the Avatar cast and crew. As the sets for the movies are digital, cast visits to the theme park attraction help provide a sensory experience that wouldn't normally be obtained through motion capture shooting on a sterile set. The scenery for the park also provides a backdrop for photoshoots featuring the cast. The first photos of the "new generation" cast were taken at the park along with video, similar to original cast photo and video taken when the attraction first opened.[62][63][64][65]
Delays
[
]
"
We weren't wasting time, we were putting it into tech development and design. So when all the scripts were approved, everything was designed. Every character, every creature, every setting.

- James Cameron, 2017[66]

"
To date, the release has been moved seven times,[67] from its original date in December 2014 through to December 2022.
During pre-production
[
]
In October 2013, shooting plans were for fall 2014,[68] and intended to be shot before Alita: Battle Angel (2019).[69] Filming ultimately commenced in September 2017, over five years behind the original plan.[70] Cameron held a pragmatic view about the delays, as crucial tech development and design were done in the time it took the scripts for the four sequels to be written.[22]
Five of the delays took place during the preproduction phase of development, prior to the completion of the scripts and designs in 2017. One of those delays was subject to speculation of a clash with Star Wars: The Last Jedi, which had in turn been rescheduled into the same slot.[71]
During production
[
]
The remaining two delays took place during production. The first of these was in May 2019, when Disney reorganized their theatrical release slate- which covered all of their major franchises- and delayed all Avatar sequels. The slate involved a Star Wars movie and an Avatar movie alternating in the Christmas slot until 2027- with Avatar releases in 2021, 2023, 2025 and 2027.
The full slate was revised again during 2020, with the coronavirus pandemic hampering many films in production. While Avatar 2 was largely being shot in New Zealand, which had all but eliminated the virus, virtual production in Los Angeles was hampered by the situation. The Avatar twitter account confirmed the seventh delay on July 23rd, with formal slate-wide announcement taking place the following day. A large group of Disney-owned films including Star Wars were delayed a full year in the same announcement.[72]
Release Date Changes
Announcement date
Release date
October 10, 2010
December 2014[73]
September 10, 2012
2015[74]
August 2, 2013
December 2016[75]
January 14, 2015
Summer 2018[76]
April 14, 2016
December 2018[77]
March 9, 2017
No firm date[78]
April 22, 2017
December 18, 2020[79]
May 7, 2019
December 17, 2021[80]
July 24, 2020
December 16, 2022[81]
Release
[
]
The film has been confirmed for an IMAX release as well as the regular format.[82]
Cast
[
]
Na'vi
[
]
Humans
[
]
Unknown
[
]
In January 2011, James Cameron confirmed that most characters would return for Avatar 2, "Basically, if you survived the first film, you get to be in the second film, at least in some form."[101]
Sam Worthington and Zoe Saldana will appear in all four Avatar sequels.[102] Worthington and Saldana signed for a trilogy in 2009.[103] After the trilogy expanded to three sequels, contract re-negotiations took place.[104]
Stephen Lang will return as Miles Quaritch for another four films, though he was killed in the end of Avatar.[95] In 2010 Lang stated "It's not over while I've still got DNA"[105]; his reprisal was confirmed in October 2013.[106] In August 2017, Miles Quaritch was confirmed as the antagonist for all four sequels and that Matt Gerald would return as Lyle Wainfleet in the sequels.[107][96] Much like Quaritch, Wainfleet's role in the sequel is despite him dying in the first film.
At the 2010 Golden Globes, Sigourney Weaver hinted at the return of her character, Dr. Grace Augustine, in some form, saying, "If you look at the footage, I don't really... I go somewhere, right? It's science fiction. Anything can happen." [108] The actress later confirmed that she and Cameron had agreed to bring Grace back, commenting, "I'm actually in the tree. I can't promise anything, but I think James Cameron wants to bring the family together", referring to Grace, Jake, Norm, and the other humans that stayed on Pandora or helped the Na'vi.[109] In 2011, Sigourney Weaver further commented on returning for an Avatar sequel, stating that James Cameron has already told Weaver the stories for the second and third installments of the Avatar film series. Weaver also commented on her return after her supposed death in the first film, stating that, "Jim [Cameron] says no one ever dies in science fiction."[110] During her 2015 appearance on The Jonathan Ross Show, Weaver said that she "won't play the same character".[111] In September 2019, official Avatar social media reiterated Weaver's new role in the sequels, linking to a previous article published by We Got This Covered.[112]
Giovanni Ribisi has also hinted at a possible return as Parker Selfridge. When asked if he had any information on the sequel that he could share, he said: "Yeah, who knows."[113] He later stated, when asked if he was allowed to say anything about the sequel: "I'm not allowed to say anything." After the interviewer stated that it was "Totally cool", Ribisi responded: "But we'll see."[114] When interviewed by George Lopez about returning for a sequel, Ribisi stated that there had been talk of him returning and it would be "a privilege" to come back in the sequel. [115] Another interview has quoted him as referencing his character's departure from Pandora rather than death, and that there have been many "allusions" to that.[116] Ribisi confirmed in October to return in his role as Parker Selfridge for all four sequels.[88]
Dileep Rao also told reporters he was unable to confirm whether or not he would return for an Avatar sequel, but hinted that the humans would return as the main antagonists.[117] In 2017, he was confirmed to return as Max Patel in the sequels.[118] On April 20, 2010 CCH Pounder confirmed that she would return as the Omaticaya Tsahìk Mo'at.[119] Joel David Moore and CCH Pounder were reconfirmed for the sequels in May and July 2017, respectively.[120][121]
Michelle Rodriguez, when asked about the sequel, said that Avatar was like working on Star Wars, and she hoped Trudy Chacon could be in Avatar's sequel.[122] At the premiere for Fast & Furious 6, Michelle Rodriguez denied her involvement in the film thus far, stating that, despite previous rumors, Cameron had yet to contact her about a role in it, but added that the world of Avatar was a "secret, secret, secret world" and implied that many of the cast members, herself included, probably wouldn't know if they were involved in the film or not until the film started pre-production.[123] In 2015, Rodriguez confirmed that she would not be appearing in Avatar 2, while mentioning that Weaver and Lang would return.[124]
In an August 2017 interview, Josh Brolin said that he rejected a role in Avatar 2, which he claims caused tension between him and Cameron.[125]
In May 2017, actor Cliff Curtis, known from the Fear the Walking Dead series, was confirmed for a lead role in all four sequels. Curtis will play Tonowari, the leader of the Metkayina clan, the reef people clan.[20] In June 2017, actress Oona Chaplin, known from her roles in Game of Thrones and Taboo, was confirmed for a lead role in all four sequels during the CineEurope trade convention in Barcelona, Spain. She will be playing Varang, described as a "strong and vibrant central character".[126]
On September 27, 2017, the "new generation" cast for all four sequels was announced, comprised of Jamie Flatters, Britain Dalton, Trinity Bliss, Bailey Bass, Filip Geljo, Duane Evans Jr., and Jack Champion.[127] Filip Geljo's casting was leaked five days prior to the official announcement by TMZ.[128]
On October 3, 2017, Kate Winslet was confirmed for the role of Ronal, twenty years after her leading role on James Cameron's Titanic.[86] She described Ronal as "a pivotal character in the ongoing story", though Winslet said she would only be involved in the Avatar 2 filming for one month.[129]
While not formally announced, actors CJ Jones, Keston John, and Chloe Coleman have been cast in the sequels. Keston John plays Va'ru in Avatar 2 and 3.[130][131]. On top of his acting role, CJ Jones, a deaf actor and advocate for more disability representation in Hollywood, developed sign language for the Na'vi.[98][99] Chloe Coleman portrays a younger version of Lo'ak in Avatar 2.[132][84]
The start of live action filming for Avatar 2 and 3 in early 2019 lead to semi-regular casting announcements for new human characters, including those for Edie Falco, Brendan Cowell, Michelle Yeoh, and Jemaine Clement. Yeoh was specifically confirmed at the time for all four Avatar sequels.
On May 29th, Total Film published an excerpt from their interview with David Thewlis about his Na'vi character role, promoting it as Avatar 2 coverage.[133] In an interview with Collider as part of promotion for Barkskins, Thewlis clarified that he was only in Avatar 3-5, partially because of Total Film's coverage. Thewlis was also incorrectly listed as an actor on Avatar 2 on IMDB.[134]. Thewlis previously confirmed he was playing the role in Avatar 3-5 on February 6, 2018.[135]
In other media
[
]
During the initial announcements for Pandora: The World of Avatar in 2011, James Cameron stated that the theme park would include elements from the second and third movies.[136] The park opened on May 27, 2017; approximately four and a half years before the release date of the second film.
References
[
]
External Links
[
]