Avatar Project
Game Information
Developer
Massive Entertainment
Publisher
Ubisoft
Engine
Snowdrop
Platform
PC and consoles
Released
2022[1]
The Avatar Project (temporary title)[2] is an upcoming AAAvideo game for PC and consoles in development for the Avatar franchise. The lead developer of the game is Ubisoft's Massive Entertainment studio, collaborating with Lightstorm Entertainment and Fox Interactive.[3]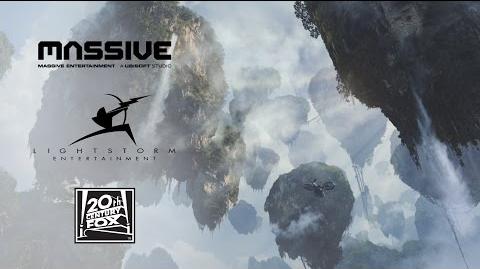 Massive Entertainment AB, a Ubisoft owned studio since 2008, is best known for their work on the open world shooter game Tom Clancy's The Division. Their proprietary game engine, Snowdrop, used for The Division, allows for the creation of realistic game environments with huge amounts of detail, dynamic global illumination lighting, and real-time destruction effects.[4]
After seeing a prototype run in Snowdrop, James Cameron and Lightstorm agreed to the game partnership. The announcement of the game was coordinated during the 2017 Game Developers Conference in San Francisco, California to help attract top talent to the Avatar Project development team.[5] Ubisoft later clarified that Massive's Avatar Project development team was a dedicated team separate from Massive's development team for The Division.[6] On August 8th, 2017, Massive announced Ubisoft Stockholm as a collaborator on the Avatar Project.[7]
The game was not announced as a direct sequel to Ubisoft's James Cameron's Avatar: The Game or a direct movie tie-in game, but will expand on the Avatar universe in new and exciting ways alongside the upcoming sequel films.[4]
Not much is known about the gameplay at present. Massive developers are interested in creating an immersive version of Pandora where players can "live an alternate life on the moon".[8] Job listings on Massive's website indicate open world and online elements will be in the game.[9][10]
Community content is available under
CC-BY-SA
unless otherwise noted.