Avatar Station
Location Information
Location
Residents
Behind the scenes
First appearance

The Avatar Station is a facility in the Blue Lagoon region on Pandora. It serves a similar purpose to the Avatar Compound in Hell's Gate. It is the only way to enter the Vacant Facility in the south. It is adjacent to the Irrigation Bypass in the north and Warrior's Walk in the west. In addition to the avatar residents, the area is also home to several direhorses and helicoradians.
The main building is accessed by two stairwells; one on each side. These lead into two main rooms with a central dividing wall, which opens up onto a balcony at each end. The facility is overlooked by three towers on the east side. There is a river running along the south edge, from a waterfall.
James Cameron's Avatar: The Game
[
]
Able Ryder was sent there to find Dr. René Harper, who asked him to help his associates. Ryder was then sent by Dr. Jerome Epstein to the Vacant Facility to collect samples of plants, particularly 5 samples of a scorpion thistle and 1 sample of a chalice plant. Ryder did not need to return to the Avatar Station for the main plot of the game, but the player may choose to go back there for sector challenges.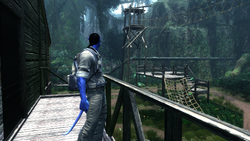 Residents
[
]
Trivia
[
]
The image on the loading screen for the region was taken from the Avatar Station.
Source
[
]