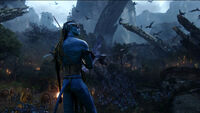 Avatar Wiki
is a community that aims to create the best resource for the
Avatar series
of movies, and the universe they take place in.
We are currently editing over 931 articles since July 2009, and keeping them growing!
All pages can be edited and you are welcome to join us and contribute to this wiki. Everyone is free to create a new page or edit an existing one. If you have any questions about the wiki or helping out, you can ask one of the administrators of Avatar Wiki. We'll be happy to help! If you would like to consult with other users, the IRC Channel and the community forum are always a good option!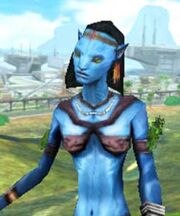 Sylwanin te Tskaha Mo'at'ite is the daughter of Eytukan and Mo'at and the older sister of Neytiri. She first appeared in James Cameron's Avatar: iPod/iPhone Game where she told the story of an avatar driver named Ryan Lorenz to Neytiri, who narrates the story to players of the app. In the final chapters of the story, Sylwanin is abducted by a human raiding party, and is eventually rescued in a heroic raid by Lorenz and a party of Na'vi.
May 15, 2019

Jemaine Clemont joins the Avatar sequel cast as marine biologist Dr. Ian Garvin, described by James Cameron as one of his favorite characters.[1]

May 7, 2019

Disney-Fox updates their theatrical release state for the next eight years, delaying Avatar 2 to December 17, 2021. Avatar 3 is planned for December 22, 2023, Avatar 4 is planned for December 19, 2025, and Avatar 5 is planned for December 17, 2027.[2]

May 2, 2019

The first Avatar book from the Penguin Random House partnership is discovered: The World of Avatar: A Visual Celebration by Joshua Izzo. The book covers material from the first Avatar movie, Pandora: The World of Avatar, Toruk - The First Flight, and Tsu'tey's Path and features a preview of new material. The book is set for release on October 6, 2020.[3][4]

May 1, 2019

Issue four of of Avatar: Tsu'tey's Path is released in comic stores and on digital platforms.

April 15, 2019

Michelle Yeoh is cast as the scientist Dr. Karina Mogue in all four Avatar sequels. [5]

April 4, 2019

Vin Diesel posts a video of him with James Cameron on Instagram, featuring the two on the Avatar sequel set. While neither of them specify in the video what Diesel was on set for, it's speculated that he was cast in the sequels.[6]

March 20, 2019

Issue three of Avatar: Tsu'tey's Path is released in comic stores and on digital platforms.

March 28, 2019

Brendan Cowell joins the Avatar sequel cast as Mick Scoresby, captain of a large-scale marine hunting vessel on Pandora.[7]

March 7, 2019

The first footage of Avatar 2 is shown to Disney shareholders during a meeting in St. Louis, Missouri. It's unknown what was shown specifically or how finished the footage was. [8]

February 18, 2019

James Cameron is interviewed on The Empire Film Podcast for a 30 minute documentary feature on Avatar. He shares new insights on the first Avatar film's development as well as some new details about Avatar 2.[9]
For older news, see the news archive or the timeline of real-world events.
Create blog post
Blogs
Avatar is a movie that would explore the world of glowing plants and animal as well as blue-skinned humanoids called Na'vi. Glowing land plants and fungi are the most stunning element of the film. Th…

Read more >

Hei. I just pumped into a site that dug into the old Avatar game, with tools to do it yourself. I'll link it here so anyone interested can get their hands on those tools and files.

https://forum.facep…

Read more >

I just noticed that Paul Frommer's blog http://naviteri.org/ is still posting additional vocabulary and so forth for the Na'vi language, and has been doing so consistently since 2010. It's a fascinat…

Read more >
See more >