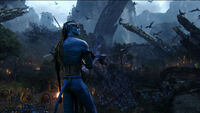 Avatar Wiki is a community that aims to create the best resource for the Avatar series of movies, and the universe they take place in.
We are currently editing over 1,021 articles since July 2009, and keeping them growing!
All pages can be edited and you are welcome to join us and contribute to this wiki. Everyone is free to create a new page or edit an existing one. If you have any questions about the wiki or helping out, you can ask one of the administrators of Avatar Wiki. We'll be happy to help! If you would like to consult with other users, the IRC Channel and the community forum are always a good option!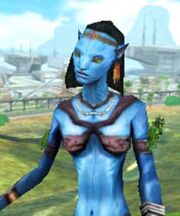 Sylwanin te Tskaha Mo'at'ite is the daughter of Eytukan and Mo'at and the older sister of Neytiri. She first appeared in James Cameron's Avatar: iPod/iPhone Game where she told the story of an avatar driver named Ryan Lorenz to Neytiri, who narrates the story to players of the app. In the final chapters of the story, Sylwanin is abducted by a human raiding party, and is eventually rescued in a heroic raid by Lorenz and a party of Na'vi.
October 16, 2020

Avatar: The Last Shadow is officially confirmed as a four issue miniseries. The first issue will be released in print and digital on January 6, 2021.[1]

October 15, 2020

A deleted tweet from the official Avatar Twitter reveals the next Avatar comic series from Dark Horse, Avatar: The Next Shadow. Expected for January 2021, the comic is set immediately after the first Avatar film.[2]

September 22, 2020

During the online 2020 Austrian World Summit, James Cameron confirms that Avatar 2's live action filming is 100% complete. Avatar 3's live action filming was described as "sort of 95% complete".[3]

July 29, 2020

Avatar Wiki reaches its 1,000th page! The article is Syura'ewan, added by KillerZ.

July 23, 2020

Avatar 2 is delayed due to the pandemic.[4]

July 2, 2020

Cityneon acquires multi-year licensing rights to Avatar: Discover Pandora. The event company will be working with Lightstorm Entertainment and Disney Location-Based Experiences to continue the exhibition.[5]

June 3, 2020

David Thewlis clarifies to Collider that he is only in Avatar 3-5, not in Avatar 2. The misunderstanding is in part due to conflicting information on IMDB and Total Film.[6]

May 29, 2020

David Thewlis's interview with Total Film about his Na'vi role in the Avatar sequels is previewed, with the full interview published in print and digital that day.[7]

May 24, 2020

Jon Landau, in an interview with RNZ, gives additional Avatar 2 story details about Jake and Neytiri's family. He also explains the measures the Avatar sequel crew is taking to safely continue live action filming during the coronavirus threat.[8]

May 21, 2020

Jon Landau confirms on Instagram that Avatar sequel filming would resume the following week.[9]

For older news, see the news archive or the timeline of real-world events.
Blogs
Hi, um, this is my first blog.
So I just thought I'd mention....
IF THEY KILL OFF ALL THE GOOD CHARACTERS IN AVATAR 2 I SWEAR, I-
Never mind
:P
People come up with such cool names for there banshee like wise water or fist flame. When i try to name it i come up with like, dick bat or shit shooter.
The second season of the award-winning Blockbuster podcast tells the story of James Cameron's rise from humble beginnings as a delivery truck driver to prolific filmmaker and master of technical innova…
See more >
Community content is available under
CC-BY-SA
unless otherwise noted.