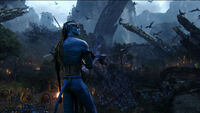 Avatar Wiki is a community that aims to create the best resource for the Avatar series of movies, and the universe they take place in.
We are currently editing over 1,064 articles since July 2009, and keeping them growing!
All pages can be edited and you are welcome to join us and contribute to this wiki. Everyone is free to create a new page or edit an existing one. If you have any questions about the wiki or helping out, you can ask one of the administrators of Avatar Wiki. We'll be happy to help! If you would like to consult with other users, the IRC Channel and the community forum are always a good option!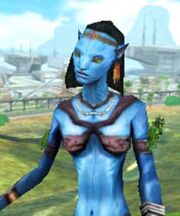 Sylwanin te Tskaha Mo'at'ite is the daughter of Eytukan and Mo'at and the older sister of Neytiri. She first appeared in James Cameron's Avatar: iPod/iPhone Game where she told the story of an avatar driver named Ryan Lorenz to Neytiri, who narrates the story to players of the app. In the final chapters of the story, Sylwanin is abducted by a human raiding party, and is eventually rescued in a heroic raid by Lorenz and a party of Na'vi.
June 6, 2021

May 27, 2021

May 12, 2021

April 30, 2021

April 14, 2021

March 13, 2021

March 3, 2021

February 3, 2021

January 15, 2021

January 6, 2021

For older news, see the news archive or the timeline of real-world events.
pt-br:Avatar Wiki:Notícias
Latest Blog Posts
Blogs
I decided to make a post about this for no other reason than to have it addressed, as I find it very interesting. Discussion welcomed and encouraged.
There are two given explanations for how the avata…
I hope James Cameron can release Avatar 2 sooner than 2022, but the pandemic has set back the release date again.
Hi, um, this is my first blog.
So I just thought I'd mention....
IF THEY KILL OFF ALL THE GOOD CHARACTERS IN AVATAR 2 I SWEAR, I-
Never mind
:P
See more >