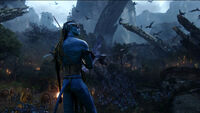 Avatar Wiki
is a community that aims to create the best resource for the
Avatar series
of movies, and the universe they take place in.
We are currently editing over 996 articles since July 2009, and keeping them growing!
All pages can be edited and you are welcome to join us and contribute to this wiki. Everyone is free to create a new page or edit an existing one. If you have any questions about the wiki or helping out, you can ask one of the administrators of Avatar Wiki. We'll be happy to help! If you would like to consult with other users, the IRC Channel and the community forum are always a good option!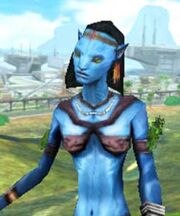 Sylwanin te Tskaha Mo'at'ite is the daughter of Eytukan and Mo'at and the older sister of Neytiri. She first appeared in James Cameron's Avatar: iPod/iPhone Game where she told the story of an avatar driver named Ryan Lorenz to Neytiri, who narrates the story to players of the app. In the final chapters of the story, Sylwanin is abducted by a human raiding party, and is eventually rescued in a heroic raid by Lorenz and a party of Na'vi.
May 29, 2020

David Thewlis's interview with Total Film about his Na'vi role in Avatar 2 is previewed, with the full interview published in print and digital that day. Thewlis was previously confirmed to be playing the same character in Avatar 3-5.

May 24, 2020

Jon Landau, in an interview with RNZ, gives additional Avatar 2 story details about Jake and Neytiri's family. He also explains the measures the Avatar sequel crew is taking to safely continue live action filming during the coronavirus threat.[1]

May 21, 2020

Jon Landau confirms on Instagram that Avatar sequel filming would resume the following week.[2]

March 17, 2020

Filming on Avatar sequels in New Zealand is suspended due to coronavirus threat. [3]

December 18, 2019

In celebration of the 10th anniversary of the release of Avatar, a 24h stream is aired on Twitter with interviews of cast and crew. [4]

December 17, 2019

Simon Franglen is confirmed as composer for Avatar 2 and 3.[5] Franglen previously collaborated with the late James Horner on the first movie soundtrack.

November 29, 2019

The official Avatar Twitter announces the end of 2019 live action filming for the Avatar sequels. The tweet features a preview of the Sea Dragon, a mothership for sea-faring craft featured in the upcoming sequels.[6]

October 18, 2019

Avatar: Pandora Rising soft launches for Android and iOS in Canada, New Zealand, and the Philippines.[7]

October 10, 2019

A since removed Amazon listing reveals Avatar: The High Ground, a three volume graphic novel series that serves as a direct prequel to Avatar 2. The series is based off of James Cameron's original screenplay for the sequel before rewrites and is planned for release in 2020.[8][9]

August 26, 2019

The sixth and final issue of Avatar: Tsu'tey's Path is released in comic stores and on digital platforms.

For older news, see the news archive or the timeline of real-world events.
Create blog post
Blogs
I felt compeled to join here since I have been a long time lurker. Im writing a fan fiction. At the moment I am making a timeline that includes three of the games as well as the story line of the mov…

Read more >

when the na'vi were fighting back aginst the humans, Seze was shot down, and killed, so what happened after that? in the 2ed movie will she get a new banshee? or will she just go live with out one si…

Read more >

hello everyone! i hope you are having a wonderful day in pandora!! if anyone would like to post anything, go for it! just please no rude commets, scams, or mean questions, but other than that, you ca…

Read more >
See more >
Community content is available under
CC-BY-SA
unless otherwise noted.