Excavation Site
Location Information
Location
Residents
Behind the scenes
First appearance
The Excavation Site is an area in the west of the Kxanìa Taw region. It is littered with RDA Bulldozers, and there is even a Hell Truck at the northern edge. It is connected to the Ribcage in the south and Eywa's Walk in the north.
Avatar: The Game
[
]
Able Ryder passed through the excavation site on his way towards Zone Control.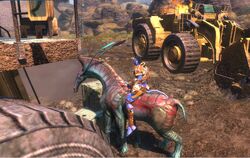 Source
[
]