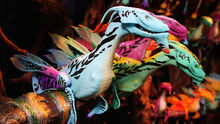 The Interactive Banshee is a Pandora: The World of Avatar exclusive toy, sold at Windtraders. The banshee can be "adopted" at the Banshee Rookery experience, or bought pre-packaged for $59.99.
The interactive banshee is normally a Windtraders exclusive product, but limited stock has been occasionally sold online through ShopDisney for $84.99 and a limit of one per customer.[1] Interactive banshees are sold outside of Pandora: The World of Avatar at The Outpost, a merch store outside the entrance of Disney's Animal Kingdom.[2]
Product Description
Edit
The replica mountain banshee is described as "an interactive toy with sounds and movement." The toys are remote controlled with a "leash" that lets you move the puppets with a hand unit and feature three ranges of motion in the mouth, head, and wings. The banshee sounds in the toy are provided by Lightstorm Entertainment. A button on the toy's belly lets you enable and disable the sounds. The toy can either be perched on one's shoulder or held in one's arms. The magnetic pad that keeps the banshee on the owner's shoulder and a belt clip for the controller are provided with the banshee. The banshee comes with a Certificate of Authenticity featuring a special message from the Pandora Conservation Initiative and packaging featuring Na'vi weaving designs by Daphne Yap. Yap previously worked on the first Avatar film as a concept artist, providing textures for creatures and designing Na'vi costumes & jewelry.[1][3][4]
An option for a banshee perch is also available, sold for $14.95.[5] An Alpha Centauri Expeditions branded banshee carrying bag is also available for $12.99.[6]
A limited release green/purple color variant banshee was sold for $99.99, along with perch and certificate, on April 22, 2018 as part of their 20th anniversary celebrations.[7] A dark blue/magenta/light [8] A limited release dark blue/magenta/light blue variant was sold on May 27, 2018 for Pandora: The World of Avatar's first anniversary. Disney Parks annual passholders at a pre-park opening shopping event.[9]
Banshee Rookery
Edit
The Banshee Rookery experience, originally announced as Banshee Connect, allows guests to adopt a replica banshee.[10] In a special rookery area of the store, naturalists assist guests with finding their personal banshee from 10 unique styles, with guests determining the banshee's personality through a combination of hand movements and sounds. Guests are then "bonded" to their banshee by taking an oath to protect the environment on both Pandora and Earth. The naturalist also explains the Na'vi pronunciation and significance of the term "Oel Ngati Kameie" ("I See You" in English), encouraging them to use it to greet other banshee owners.[3] While often described as baby banshees by visitors, the toys are described by employees in Pandora: The World of Avatar as scale-models used by conservationists to assist in their banshee studies.[11]
Reception
Edit
The interactive banshees are the most popular toy at Pandora: The World of Avatar, having sold out several times since the attraction's opening. Wait times to get a banshee through the Rookery during opening week averaged around 15-30 minutes on top of the 30-60 minute long wait to get into Windtraders. Disney made "grab-and-go" prepackaged Banshees available during opening week for those who didn't want to go through the Rookery.[12] Other sold out periods after the opening involved 2,000 banshees in stock on one day, but entirely sold out the following day.[13] In sold out periods, the interactive banshee are replaced with banshee plushies.[14] Scalpers sold the toy on eBay for significant markups after they sold out initially.[1] The popularity of the toys was mentioned by theme park blogs and mainstream news outlets like the LA Times, who previously covered the launch of the attraction.[15]
References
Edit
↑ http://blogmickey.com/2018/05/banshees-now-sold-outside-of-animal-kingdom-entrance-at-the-outpost/
↑ 3.0 3.1 https://disneyparks.disney.go.com/blog/2017/05/connect-with-a-banshee-at-the-rookery-inside-windtraders-in-pandora-the-world-of-avatar/
↑ https://wdwnt.com/2017/05/photos-video-review-adopt-shoulder-banshee-pandora-world-avatar-next-big-theme-park-souvenir/
↑ https://wdwnt.com/2018/03/photos-limited-release-animal-kingdom-20th-anniversary-day-of-merchandise-includes-special-banshee-toy/
↑ http://blogmickey.com/2018/05/limited-release-banshee-coming-to-pandora-the-world-of-avatar-to-celebrate-first-anniversary/
↑ http://blogmickey.com/2018/05/limited-release-banshee-coming-to-pandora-the-world-of-avatar-to-celebrate-first-anniversary/
↑ https://wdwnt.com/2017/03/new-details-pandora-world-avatar-no-attraction-signage-wilderness-explorers-banshee-connect-avatar-no-disney-bags-etc/
↑ http://www.latimes.com/entertainment/la-et-entertainment-news-updates-april-inside-disney-world-s-pandora-bonding-1493493034-htmlstory.html
↑ https://wdwnt.com/2017/06/breaking-popular-shoulder-banshee-toys-pandora-world-avatar-completely-sold/
Community content is available under
CC-BY-SA
unless otherwise noted.