Na'vi Reservation
Location Information
Location
Residents
Behind the scenes
First appearance
Na'vi Reservation is an inaccessible area in the northern part of the Blue Lagoon region on Pandora. Only the half-circle road surrounding the elevated area is accessible. Some direhorses roam near the north road, close to a Tree of Vision. A road to the east leads to the North Gate, and another in the south leads to Irrigation Bypass. A clearing at the end of Warrior's Walk overlooks the reservation.
James Cameron's Avatar: The Game
[
]
Able Ryder unknowingly marked the Na'vi Reservation for an aerial strike by a Dragon Assault Ship, which lead to the village's destruction.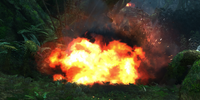 Sources
[
]
James Cameron's Avatar: The Game - Gameplay