Old School House
Location Information
Location
Residents
Behind the scenes
First appearance

Avatar: Special Edition Re-release
The Old School House (also called Grace's School) was an English school owned by the RDA sited in the jungle clearing 2.25 kilometers northeast of Hell's Gate. The school has been closed for years, since Sylwanin and a group of young hunters had set a bulldozer on fire. Sylwanin and many other children were killed by RDA troopers after they searched for shelter at the school.
First Years
Edit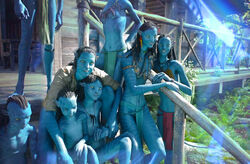 In 2142[1], Grace Augustine and René Harper founded a school to teach young Na'vi from the Omaticaya clan English and basic human education. The Na'vi were said to be capable of learning faster than Augustine and Harper could teach. The school was operational for around ten years.
The Attack
Edit
Sylwanin stopped coming to school, as she was angry about the work of the RDA on Pandora. One day in 2152, she and several other young hunters came running to the school, all painted up, because they had set a bulldozer on fire. They thought Grace could protect them, but the troopers pursued them to the school and killed Sylwanin in the doorway, in front of her sister, Neytiri, and then shot the others. Although Grace got most of the kids out in the middle of the gunfire, the children never came back.
After the Gunfire
Edit
Two years after the events that killed Sylwanin and other children, Grace, Jake Sully and Norm Spellman visited the school, now in ruins. Since the school closed, it has only been used as a storehouse. After Jake saw bullet holes on the wall, Grace immediately told them to leave, and did not reveal what happened there until later.
Grace is still deeply affected by the slaughter, leading her to tears when thinking about it. She reveals to Jake that the children called her sa'nok, mother in English. She says that the pain she felt was strong enough to reach back to her human body through the link.

Students of the School
Edit
Reference
Edit
↑ According to Pandorapedia, René Harper only arrived 2142, and Grace Augustine stated that she put ten years into the school. For Beyda'amo to distrust humans because of the massacre by 2152, the school must have been founded in 2142 and closed that year.
↑

Pandorapedia article for Beyda'amo.
Community content is available under
CC-BY-SA
unless otherwise noted.