Pandora Utility Suit
Machine Information
Created by
Used by
Usage

Traversing Pandora
Collecting samples
Studying Pandoran wildlife

Behind the scenes
First appearance

The Pandora Utility Suit (or Utility Suit) is a machine used by Pandora Conservation Initiative members to protect themselves from Pandoran hazards while doing ecological research.[1] The Utility Suit, commissioned by Alpha Centauri Expeditions and also used by their employees, is a highly modified and advanced version Amplified Mobility Platform suit used by the Resources Development Administration. The Utility Suit features a streamlined design with no protective cockpit and is only used for peaceful research and study.[2][3] The Utility Suit is also informally referred to as the Ute Suit.[3]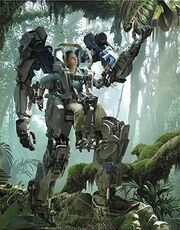 The Utility Suit was created by Lightstorm Entertainment, Disney Parks Live Entertainment, Michael Curry Studios, and Walt Disney Imagineering.[4]
The Utility Suit made its Pandora: The World of Avatar debut on April 22, 2018, the anniversary of the opening of Disney's Animal Kingdom. Sneak preview testing of the suit in Pandora was done on April 8, 2018.[5]
Community content is available under
CC-BY-SA
unless otherwise noted.