Tipani clan
Location Information
Location

Jungle

Cultural Information
Olo'eyktan
Tsahik
Na'vi Name

Tipani

Behind the scenes
First appearance
The Tipani clan is a Na'vi tribe on Pandora. Its members reside in over a dozen individual villages, each of them led by local village elders. The Tipani clan was one of the first tribes to have contact with humans on Pandora. While they seem to be a very spiritual tribe, they are in fact cunning and highly dangerous in combat.
The Tipani clan is renowned among the Na'vi for its fierce warriors, skilled hunters and virtuous fighters. The clan's members rely heavily on their keen senses and predatory instincts for survival. Their statuesque presence, brute strength, astute sense of hearing and sharp eyesight enable the Tipani to walk the land without fear. Sure and light-footed, a Tipani goes easily undetected. The most experienced Tipani warrior can stalk their prey with such precision that the hunted scarcely realizes its danger before it is too late.[1]
During their adolescent years, strict focus is set on developing both the mind and body for battle under the clan elders. A centuries-old tradition sees elders accompany groups of warrior apprentices into the woods where athleticism and tranquility are put to the test. Success is not measured by the ability to slay a creature, for many come home empty-handed. It is measured by the ability to stalk prey without making one's presence known. A master warrior must first acquire the art of light-footedness before training in the art of the kill.[2]
They are the only clan known to live in separate villages and to wear armor and masks. Large masks are occasionally used to decorate certain areas.[3]
Relationship with Humanity
Edit
In human eyes, the Tipani were "unsettlingly standoffish" when further integration with humanity was suggested. They were reluctant to engage in diplomacy with humans, with only a handful embracing the study of Earth languages. The Tipani have not welcomed many avatars into their trust. Four were allowed into the clan in 2152 (Epstein, Langley, Parker and Ryder), but subsequent attacks by commander Falco on Vayaha Village quickly soured relations into open conflict. The hostilities only concluded with the death of Falco at the Well of Souls.
Villages by region
Edit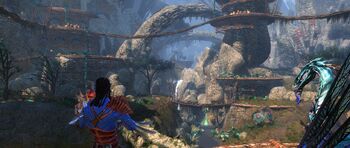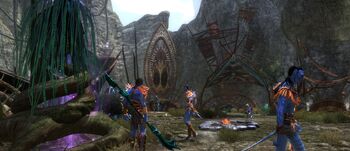 See Also
Edit
References
Edit
↑ https://www.cirquedusoleil.com/toruk/pandora?explore wooden spear article
Community content is available under
CC-BY-SA
unless otherwise noted.