It was a Monday, July 20th 2009 when I clicked the create wiki button. Now, after two years of intense work (from both users and admins), we've managed to create the largest Avatar encyclopedia ever, editing over 644 articles and establishing a solid user base. It has been two years on which I've met new people, and on which fans from all over the world have met to contribute and talk about the movie event of the past decade: Avatar.
In these two years, many things have been achieved. We've got thousands of visits, ranked among Wikia's best movie wikis, managed to upload almost 5,000 images, and above everything, the Avatar Wiki has become a Home Tree for our users, for our friends. We'd like to thank our amazing admin group, who has worked intensely to make this project possible. But it would not have been possible without the real stars, the users. You are the ones who contribute every day to make the encyclopedia grow and grow.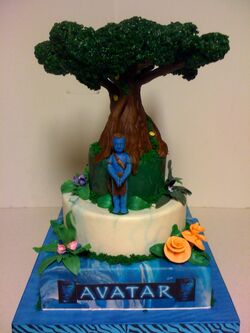 Now, how are we going to celebrate?! Ghaziya and Sarah have offered themselves to make a cake. Well, maybe we forced them... but that's not the point. We're going to celebrate in Faern's house. Be sure to make it. The rest is up to you. Take your pet llamas as well.
Again, we'd like to thank every single one of you, who have made the Avatar Wiki successful. Now, let's wait until Avatar II & III are released. We'll be 5 years old by then!
--((((Matias)))) ~ Talk IRC 22:56, July 20, 2011 (UTC)