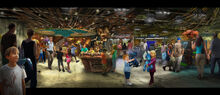 Windtraders is a gift shop in Pandora: The World of Avatar in Walt Disney World's Animal Kingdom. This is the only location in the Pandora attraction that sells Avatar merchandise. The merchandise includes clothing, beach towels, backpacks, figurines, and other items relating to Na'vi culture, Pandoran wildlife, and Alpha Centauri Expeditions. Some Windtraders merchandise can be bought online through Shop Disney and the Shop Disney Parks app. The store also includes exclusive merchandise not sold online, including creating your own Avatar action figure and connecting with an interactive banshee toy.
Backstory
Edit
ACE employees run the store as part of their eco-tourism operation in the Valley of Mo'ara. Originally a Resources Development Administration base during the conflict between Na'vi and humans, it has been retaken by nature. While ACE stripped the interior as part of renovating it into a store, they kept the natural overgrowth, using the roots as merchandise displays. Traveling Na'vi traders are responsible for the stock of Na'vi cultural items in the store, hence the name "Windtraders".[1][2]
Merchandise
Edit
See: Pandora: The World of Avatar Merchandise
Windtraders sells a wide variety of merchandise based on the attractions and storyline of Pandora: The World of Avatar. The merchandise is made specifically for the attractions. Popular merch items include the Interactive Banshee, Na'vi Translator cards, and wearable Na'vi tails.[3]
Clothing for Alpha Centauri Expeditions, the Pandora Conservation Initiative, Flight of Passage, and the Na'vi River Journey
Other Pandora themed clothing including banshee hats
Na'vi themed clothing including shirts, hoodies, sandals, backpacks, socks, and umbrellas. Some items feature glow effects based off of bioluminescence.
Roleplay toys including Na'vi tails, jewelry, ears, and weapons
Stuffed toys and figurines of Pandora's wildlife including banshees, hexapedes, viperwolves, thanators, prolemuris and baby Na'vi
Drink containers including mugs and thermoses
Pins and patches
Decor items including throw pillows, art, picture frames, decorative statues, and plant themed lamps
Science themed items including potted plants and geodes
A custom bracelet making kiosk
Assorted candies and other snacks
Banshee Rookery
Edit
Guests can take home their very own scale model puppet of a banshee. In a special rookery-themed area of the store, naturalists assist guests with finding their personal banshee from 10 unique styles, with guests determining the banshee's personality through a combination of hand movements and sounds. The banshees are remote controlled with a "leash" that lets you move the puppets with a hand unit and feature three ranges of motion in the mouth, head, and wings. The banshee sound in the toy are provided by Lightstorm Entertainment. The toy can either be perched on one's shoulder or held in one's arms. A special banshee perch is also available to buy separately. Guests are then "bonded" to their banshee by taking an oath to protect the environment on both Pandora and Earth. The naturalist also explains the Na'vi pronunciation and significance of the term "Oel Ngati Kameie" ("I See You" in English), encouraging them to use it to greet other banshee owners.[4] The banshee costs $49.00 while the optional perches cost $14.95.[5]
ACE Avatar Maker
Edit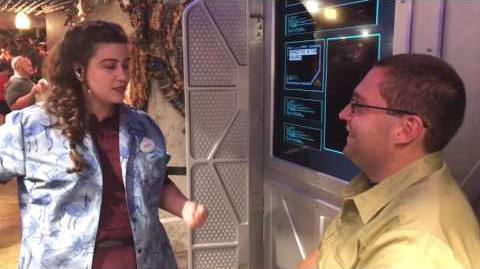 Guests can make their own custom avatar action figure to take home. After a quick facial scan, guests can choose Na'vi facial features, clothing, and accessories that fit their personality. The figure costs $79.99 and is nearly 10 inches tall. Due to the custom and personal nature of the experience, refunds aren't accepted.[6]
References
Edit
Community content is available under
CC-BY-SA
unless otherwise noted.